The 2023 North Carolina Legal Feeding Frenzy:
March 1-March 31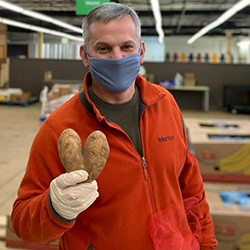 Helping those who are hungry is always important, but right now it is urgent. We in the legal community here in North Carolina can make a real impact fighting hunger in our state."

– Josh Stein, North Carolina Attorney General
NC Attorney General Josh Stein, the NCBA Young Lawyers Division, the NC Bar Foundation, and Feeding the Carolinas invite all of North Carolina's legal community to help fight hunger in North Carolina.
Join us for the 2023 NC Legal Feeding Frenzy.
Registration opens February 22, 2023 at 8:00 a.m.
THE NEED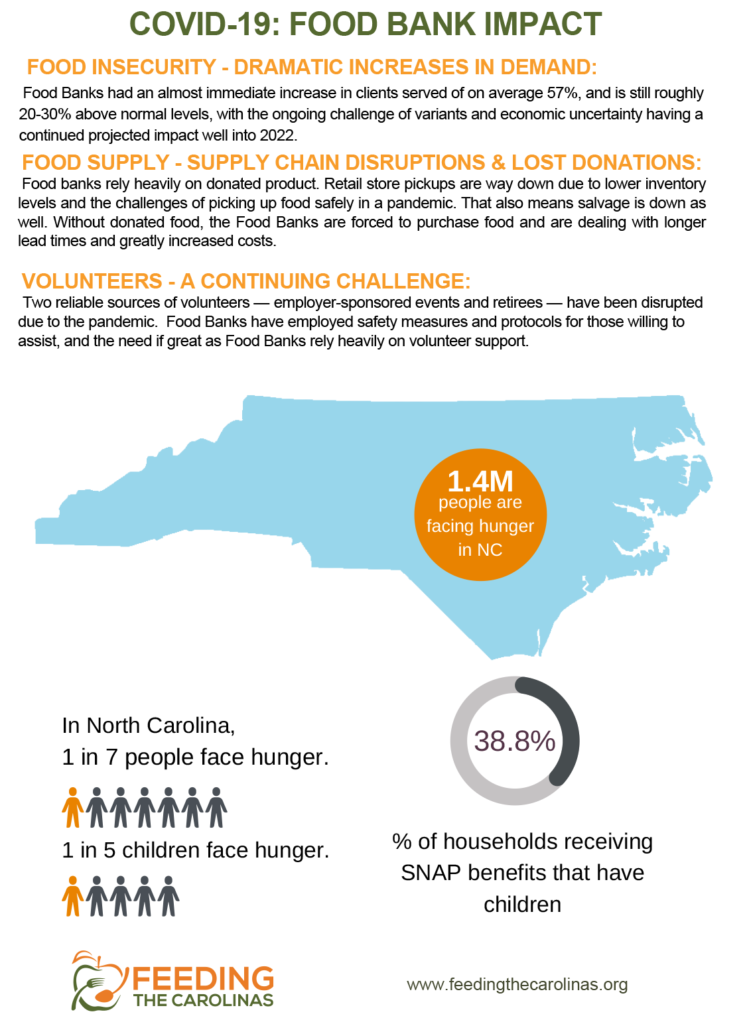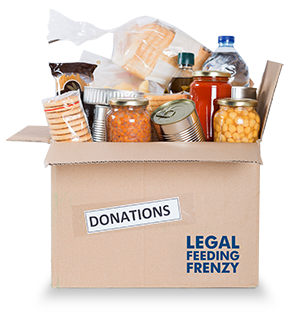 NC Legal Feeding Frenzy is an annual joint program of the NCBA Young Lawyers Division and Feeding the Carolinas food banks. It aims to fight hunger across North Carolina by uniting the legal community in support of local food banks. Over half of all soup kitchens, food pantries and other meal programs rely entirely on volunteers.
THE RESPONSE
In response to this urgent need, the Office of the Attorney General, The Young Lawyers Division of the North Carolina Bar Association, the North Carolina Bar Foundation, and Feeding The Carolinas have joined efforts to create the North Carolina Legal Feeding Frenzy—a food and fund drive competition among all North Carolina law firms, law schools, and organizations to assist Feeding The Carolinas' Food Banks. In this friendly competition, the law firm, school, or organization with the highest average individual donation (calculated by the team's total donations divided by the team's total number of donors) will be awarded the prestigious and highly coveted "Attorney General's Cup." In addition, Attorney General Josh Stein will present additional awards in categories including: Sole Practitioner, Small Firm, Medium Firm, Large Firm, Law School, Government/Public Interest, and Corporate/In-House Counsel.
PARTICIPATE
Step 1: Register your team.
Registration for the #NCLFF23 will open on February 22, 2023 at 8:00 a.m. and run through the last day of the competition, March 31. To register your team, click the Team Application tab at the top of the page and follow the step-by-step instructions.
Teams with multiple offices throughout the State may register separately, designating on the Team Application form the local FTC food bank to which that office will make its donations. The multiple office registrations and corresponding donations will be combined at the end of the competition to determine the team's total donations. When completing multiple Team Applications, please include the total number of employees at your firm/organization across all offices. All registrations should include a contact person who NCBA YLD LFF organizers may contact throughout the competition.
Step 2: Read the Contest Rules.
Click the Contest Rules tab at the top of the page for information on determining team size, scoring, bonus pounds and donations.
Step 3: Participate in the March 3, 2023 Kick-Off Event.
See details below.
Step 4: Get the word out.
Between March 1 – 31, 2023, encourage members of your team to donate food and funds to your office's local food bank. Past winners have credited much of their success to sending frequent inter-office emails with information about the LFF and food insecurity in North Carolina, hosting Friday "jeans" drives, and asking friends and family outside of the office to contribute to their team's efforts.
Step 5: Rack up bonus pounds.
See the Contest Rules for ways that your team can stay ahead of the competition by earning bonus pounds.
KICK-OFF EVENT
On March 3, 2023, the NCBA YLD LFF committee, with the help of AG Josh Stein, Feeding the Carolinas, and the NCBA, will host an in-person volunteer kick-off event at at the Food Bank of Central & Eastern North Carolina (1924 Capital Blvd., Raleigh NC 27604). This is an exciting opportunity for teams across the State to come together on March 3rd to assist their local food banks through proper safety measures and protocols.
Registration for #NCLFF23 will open on February 22, 2023 at the team application page. 1,000 "Early Bird" bonus pounds will be awarded for teams that register between February 22-24th. Teams that register between February 25th – February 28th will receive 500 bonus pounds.
The following bonus pounds will be awarded:
1000 bonus pounds to teams that register by February 24th
Teams the register between Feb 25th and Feb 28th will receive 100 bonus pounds.
Teams that have at least one member participate in one of the kick-off volunteer events at a Food Bank on March 3 will receive 1,000 bonus pounds.
Teams that organize and participate in an on-site opportunity at a Food Bank between March 1 – 31 will receive 2,000 bonus pounds.
300 bonus pounds to teams that post or share information about #NCLFF23 and/or food insecurity in North Carolina on social media (LinkedIn, Facebook, Twitter, Instagram) at least one time (we encourage more) from March 1 – March 31*
*To receive credit, you must email a screenshot of your post, with the timestamp, to brewer@dysartwillis.com
AWARD CEREMONY
Attorney General Josh Stein will recognize the #NCLFF23 winners in a live or virtual ceremony. Details to be determined. Check back for more information.