The 2019 NC Legal Feeding Frenzy:
March 1-March 31
Attorney General Josh Stein, the Young Lawyers Division of the N.C. Bar Association and Feeding The Carolinas want you to join us for the NC Legal Feeding Frenzy.
THE NEED
Over 1.8 million North Carolinians are considered "food insecure," one of the highest rates in the country, according to a recent study by Feeding America. Many of these individuals are children, senior citizens, and disabled adults. Many others show the new face of hunger—individuals who have lost their jobs, are unemployed or underemployed. In many other instances it is a working mother or working parents who are still struggling to keep food on the table.
Sadly, North Carolina has one of the highest rates of children under age five experiencing a lack of adequate food; nearly one in four. In fact, North Carolina's food banks continue to experience record demand for services. In 2015-16 alone, the food banks in the Carolinas distributed nearly 182 million pounds of food and grocery products; the equivalent of over 204 million meals.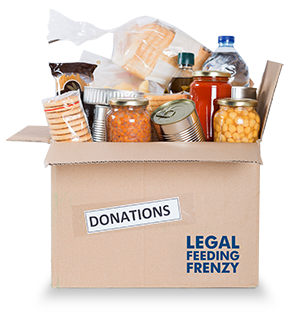 NC Legal Feeding Frenzy is an annual joint program of the NCBA Young Lawyers Division and Feeding the Carolinas food banks. It aims to fight hunger across North Carolina by uniting the legal community in support of local food banks. Over half of all soup kitchens, food pantries and other meal programs rely entirely on volunteers. Due to the devastating impacts of Hurricanes Florence and Michael, they need our help now more than ever.
THE RESPONSE
In response to this urgent need, the Office of the Attorney General, The Young Lawyers Division of the North Carolina Bar Association, the North Carolina Bar Foundation, and Feeding The Carolinas have joined efforts to create the North Carolina Legal Feeding Frenzy—a food and fund drive competition among all North Carolina law firms, law schools, and organizations to assist Feeding The Carolinas' Food Banks. In this friendly competition, the law firm, school, or organization that raises the most food (based on a per person average—attorneys and staff) will be awarded the prestigious and highly coveted "Attorney General's Cup." In addition, Attorney General Josh Stein will present additional awards in categories including: Sole Practitioner, Small Firm, Medium Firm, Large Firm, Law School, Public Interest, and Corporate/In-House Counsel. Government/public interest offices and corporate legal departments are encouraged to participate as well and will be grouped into the categories listed above based on size.
PARTICIPATE
We invite you and your law related organization to help our food banks serve our hungry neighbors.
Pre-registration (bonus points for early entries): now through 5:00PM February 26th 2019.
---
NC Legal Feeding Frenzy Kickoff Events: 
Join us in your community to kick off NC Legal Feeding Frenzy and see firsthand how supporting local food banks impacts your neighbors. These are unique opportunities to connect with colleagues and give back to your community. Events will include sorting and packing food, preparing backpacks, and assisting at the produce market. (Please wear orange for hunger awareness.)
WHO: The North Carolina legal community, including lawyers (including corporate/in-house counsel), paralegals, legal assistants, practice administrators, law professors and law students. Families are welcome to be involved as well (age restrictions apply).
Southern Pines/Sandhills  January 4, 9 a.m. – noon
Durham  January 5, 9 a.m. – noon
Raleigh  January 5 1-4 p.m.
Wilmington  January 18, 9 a.m. – noon
Elizabeth City  January 21, 9 a.m. – noon
Greenville/New Bern  January 26, 9 a.m. – noon
Charlotte  February 2, 9 a.m. – noon
Winston-Salem  February 9, 9 a.m. – noon
Fayetteville  February 9, 9 a.m. – noon
Durham  February 16, 9 a.m. – noon
Asheville  February 23, 9 a.m. – noon
---
NC Legal Feeding Frenzy Competition: March 1 – March 31, 2019
Attorney General's Cup Award Reception: Attorney General Josh Stein will recognize the NC Legal Feeding Frenzy winners in a ceremony on Friday, April 26, 2019, 2:00 p.m., at the Bar Center, 8000 Weston Pkwy Cary, NC 27513.